The goal of Design is to raise the expectation of what design can be.
We Have Rights, We Design the Future.
Design that amplifies futures is about shaping a world where possibilities are expanded, voices are heard, and the potential for a better tomorrow is unleashed.
"The goal of Design is to raise the expectation of what design can be." Paula Scher's perspective reflects the evolving nature of design. As technology advances and cultural contexts change, design is challenged to adapt and remain relevant.
Beyond a problem-solving discipline, Design is a transformative means of sharing the world we live in, raising new questions and being closer to the ideal worlds we imagine.
The advent of new tools and technologies, including AI-generated content, has undoubtedly made a significant impact on the creative industries. Furthermore, the post-pandemic era has brought about profound changes in society. These changes have prompted a transition in design, shifting the focus from traditional economic models to a more purpose-driven approach. From the traditional way we have been producing design, to designing driven by a cause, with a commitment to facilitating social change toward more sustainable futures.
Design activist Alastair Fuad-Luke emphasizes the potential for designers to become agents of change, advocates for design that goes beyond aesthetics and considers broader systemic issues, exploring the role of design in addressing global challenges in a "post-normal multiverse world". He advocates for a shift from traditional, linear design models to more participatory and collaborative approaches that engage users and stakeholders in the design process.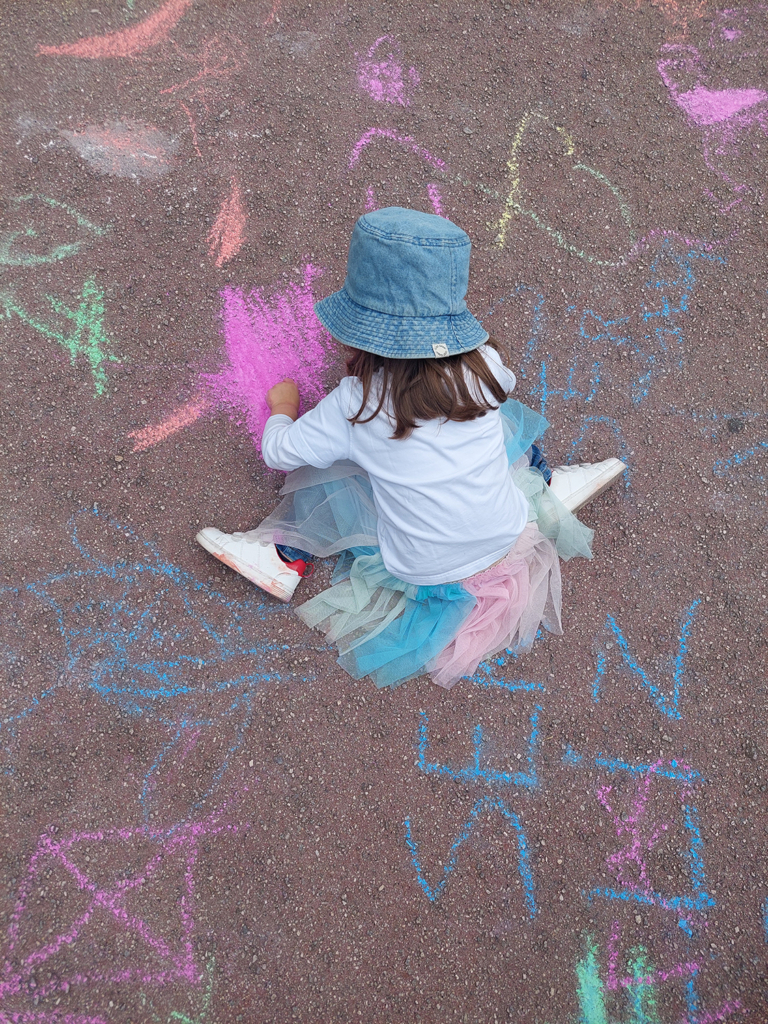 Creative engagement between artists and the community through co-creation can be an effective way to empower both parties, acknowledge the needs and aspirations of communities and to relate to art and design, by fostering meaningful connections as co-owners, co-artists, co-designers.
Design and art play a significant role in the urban space, impacting community involvement and raising awareness. By serving as a creative stimulus, they foster a culturally engaged community while promoting the debate on Public Art. This interaction between design, art, and the urban environment stimulates growth and cultivates a sense of belonging and connection within the community, encouraging individuals and institutions to engage actively, express their opinions, and contribute to the development of an inclusive community.
The involvement of young children, especially those of preschool age, and children with disabilities in decision-making processes has historically been limited. They have often been excluded from participating in projects that promote participatory and action-oriented practices. In fact, a literature review reported that children younger than 7 years old are rarely involved in projects involving participatory action practices (Shamrova & Cummings, 2017). This fact highlights the need for greater inclusion and meaningful participation of these groups.
In the heart of Porto, Portugal, to celebrate World Children's Day, an area of approximately 500 square meters in public space was transformed into a vibrant canvas for co-creation. More than 250 children eagerly participated in this artistic and educational endeavor, leaving their mark on the pavement.
I first conceived the idea of sensitizing children to their rights by involving them directly in a collaborative activity. The plan was to have them write a sentence, together, on the pavement using chalk. To bring this project to life, I began by identifying schools in the vicinity of the event location and reaching out to invite them to participate. Soares dos Reis Artistic Secondary School immediately caught my attention and became the starting point for the co-creation process I was about to embark on. With their talent and expertise in typography and graphic design, the students proved to be the perfect partners for the project. As 10th to 12th-grade art students, they possessed the necessary skills to create a visually striking typographic message and collaborated also as stakeholders and guided the design process for the younger co-artists. In white chalk, their design spanned over 40 meters, boldly proclaiming, 'We Have Rights, We Design the Future.'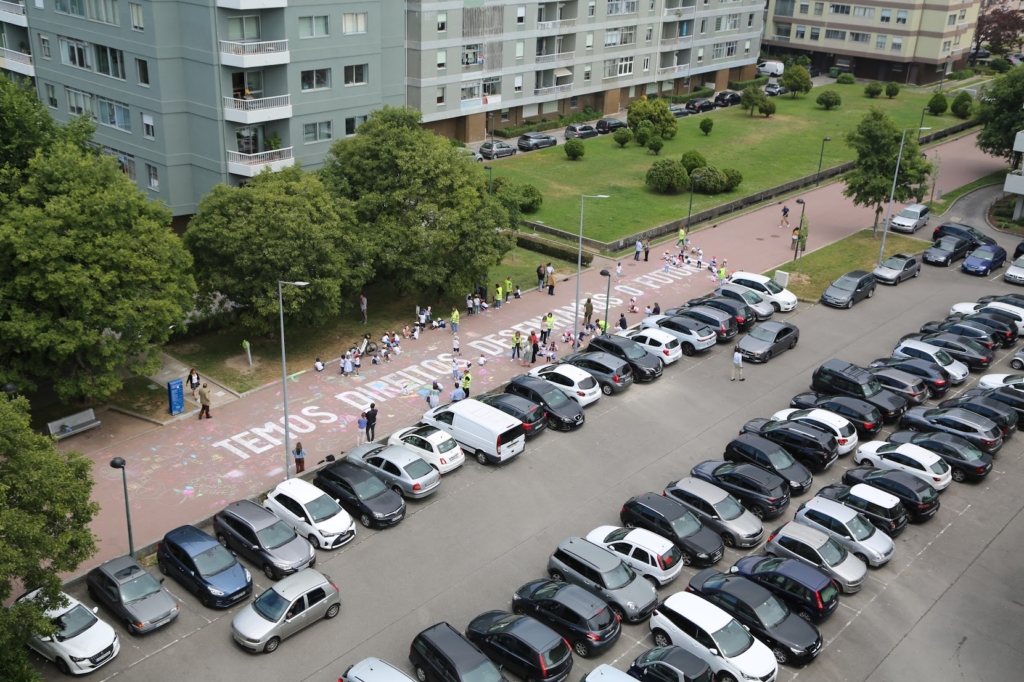 Supported by Claan, the event was organized by the non-profit association, Designing for Children's Rights (D4CR). Taking place on World Children's Day, the event aimed to foster community involvement and raise awareness about the importance of children's rights in design. In the weeks leading up to the event, we visited schools to introduce the association to children, discuss their rights, the principles of the D4CR design guide, and invite them to participate in the public art project.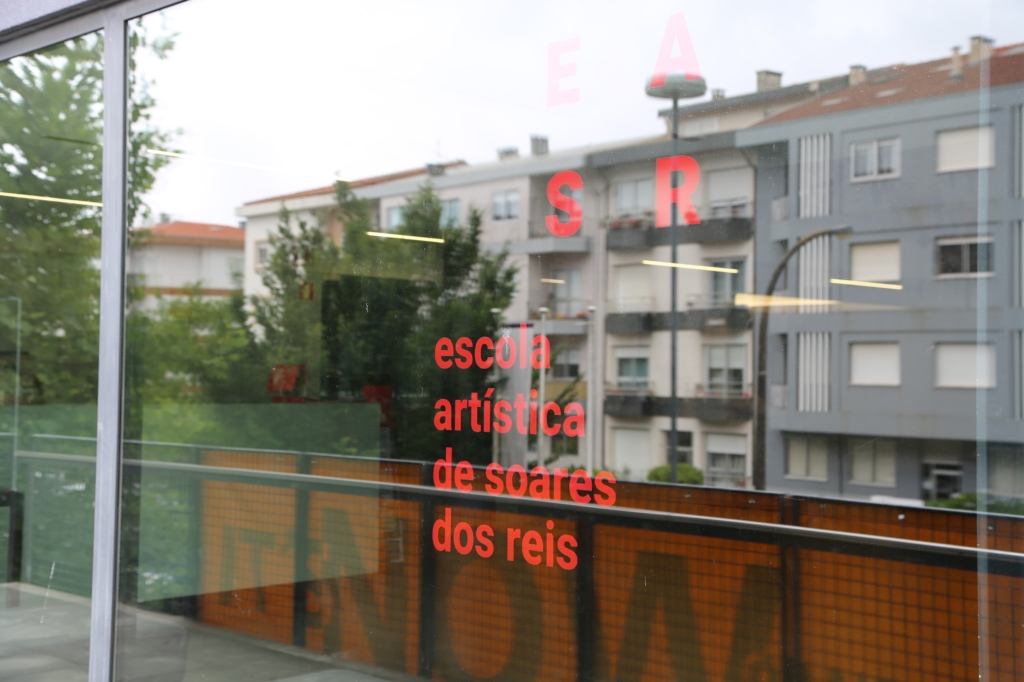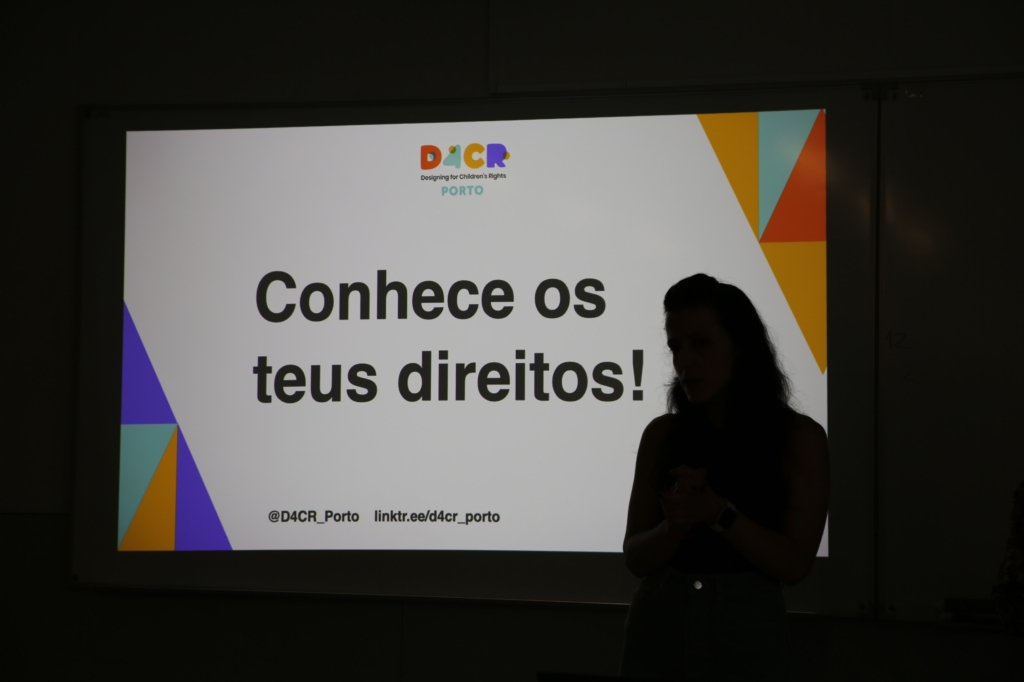 On the day of the event, young artists aged 4 to 12 enthusiastically expressed their rights and creativity by adding vibrant drawings and messages to the collective artwork. This event served as a celebration of imagination, co-creation, and the profound impact of art and design on society.
Design that amplifies futures is about shaping a world where possibilities are expanded, voices are heard, and the potential for a better tomorrow is unleashed.